In 2020, we created value for our shareholders and investors and enabled the development and implementation of the strategy of searching for resources and financing to continue expanding our operations in Colombia and Latin America. One of our main deals was the acquisition in Brazil of Argo Energía, which was 100 % jointly acquired in equal proportions with the Spanish company Red Eléctrica Internacional. This acquisition implied taking on credit for USD 300 million, and enabled us to add 1,470 kilometers of transmission lines and 11 substations in Brazil, where we were already present with Gebbras, which operates 1,094 kilometers of lines.
In a complex year due to the COVID-19 pandemic, which had a strong impact on the economic performance of the Latin American countries where we are present, we successfully made two bond issuances that were well received by the markets. The first was for USD 400 million, 11 times oversubscribed, which demonstrates great confidence and backing by investors for the performance of our organization, which has a diversified portfolio of controlled and non-controlled companies. Through this issuance we returned to the international debt markets for the first time in ten years. In the local market, we issued bonds for COP 950 billion, and the issue was 2.5 times oversubscribed.
(102-7) The Group's consolidated revenues increased by 5 % from COP 4.89 trillion in 2019 to COP 5.13 trillion in 2020; net income attributable to GEB increased by 36 % from COP 1.85 trillion to COP 2.51 trillion. Adjusted consolidated EBITDA increased by 17 % to COP 3.66 trillion.
Based on these favorable results, we will submit to the consideration of the General Meeting of Shareholders a distribution of COP 1.63 trillion. The proposed dividend per share is COP 178, up 27 % compared to the COP 140 dividend declared on 2019 profits, equivalent to a dividend yield of 6.7 % based on the share price at December 30, 2020.
COP
trillion in net income
COP
trillion in consolidated EBITDA
COP
trillion in consolidated assets
COP
trillion in liabilities
The dividend per share includes an ordinary dividend for COP 147, and an extraordinary dividend for COP 31.
(102-7) Consolidated assets totaled COP 31.15 trillion, liabilities totaled COP 16.42 trillion, and equity totaled COP 14.73 trillion.
Additionally, in 2020 we made a substantial effort in view of the difficult situation, and brought forward the dividend payment, which benefited the Capital District, our main shareholder, as well as nearly 5,000 private shareholders.
Our management has fulfilled our commitment to shareholders and stakeholders by preparing and communicating its results and relevant information, and by responding to their inquiries and requests in a timely manner, always taking into consideration their needs and expectations.
This financial performance reflects the profitability and sustainability of our operating activities, as a result of a business portfolio that is diversified by activities, countries and currencies, on the basis of solid social, environmental and governance pillars. We additionally assured 100 % of our operations, maintaining the continuity of delivery of our electric power and natural gas services, and we actively managed our sales, costs and expenses so as to mitigate the effects of the pandemic in terms of revenues, margins and receivables. Lastly, our consistent capital discipline and ongoing relations with investors enabled us to obtain the funding required for our operations and growth, and to optimize our debt profile and cost.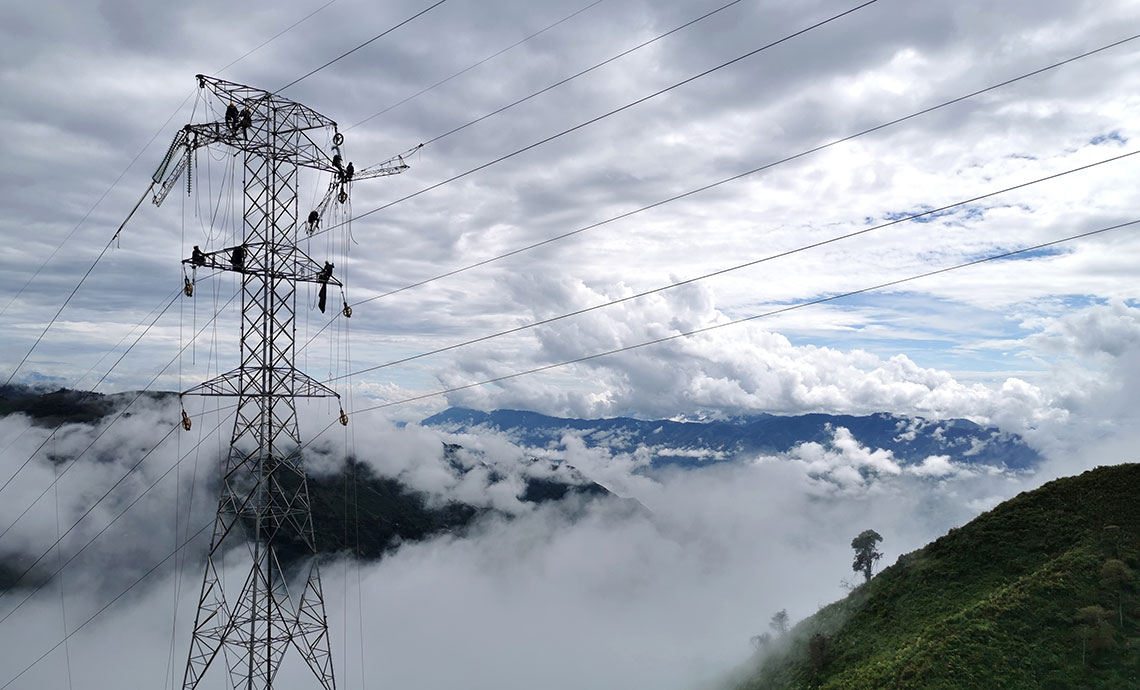 Linemen of our project Tesalia – Alférez 230 kV